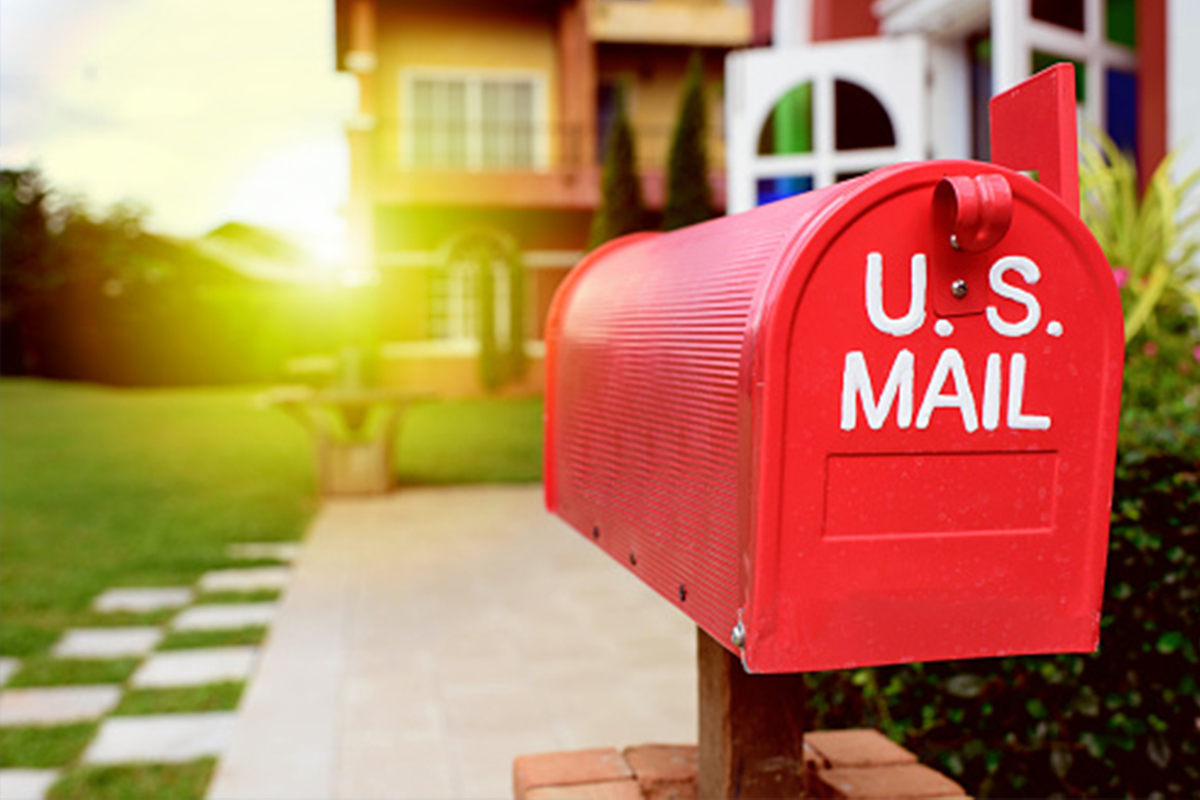 Top direct mail trends in 2021
In a physically disconnected world like today, one never knows what can catch people's attention and become a trend. Take this for example-Who would have thought a simple piece of mask could have ever become a part of fashion. Not only become a fashion accessory but also give birth to an entirely new industry. Well, thanks to Covid-19, we now have the gift of the trending masks and know the right way to cough.
But if you are a marketer, you need to stay ahead of what might become a trend. While it is nearly impossible to predict upcoming trends, it is always recommended to keep up with them.
Since direct mail is reasserting its importance once again, we will be discussing some top direct mail trends in 2021 to keep you ahead of the curve.
Let's directly get to trending!
Top Direct Mail Trends in 2021
Regular mail patterns can be hard to estimate in times of common distress and political difficulty. And obviously, a furious covid-19 pandemic contributed to creating an altogether tricky year for advertisers that nobody could have envisioned.
As of late, Who's mailing what isn't the only part of the advertisers' concern; marketers are noticing a significant shift towards When to send mail!. So, we thought we might share with you some direct mail trends that are catching on in 2021.
1 CONTENT IS GETTING CONCISE.
Well, if Ross couldn't stay awake through Rachel's 13 pages (back and forth) letter, then assuming that a customer who barely knows your brand will read a 5-6 page boring mail hardly stands any chance of getting noticed.
Thus, marketers are sticking to concise, direct mail copies. For example, we have examples of two forms of direct mails; Letter size mails and postcards.
Letter size direct mail word count
A study by Who's Mailing What indicates that letter-size direct mail copy became shorter by 62% in the last 20 years.
We will clear it with an example of Amazon. Below mentioned are two different messages from different years. One mail is from 2016 received by a user, and the other one is a message received in 2021.
While Amazon used to compose a relatively 3 paragraph message in 2016 to inform the user that his/her product was out for delivery. On the contrary, Amazon reduced the word usage to just one paragraph to inform the out for delivery information in 2021.
Amazon's order out for delivery mail from 2016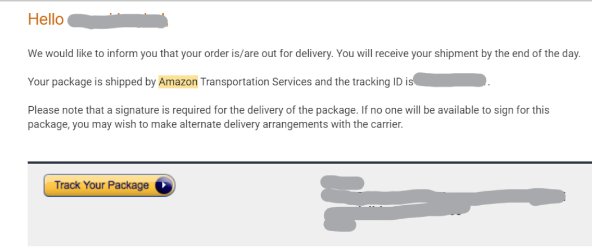 Amazon's order out for delivery mail from 2021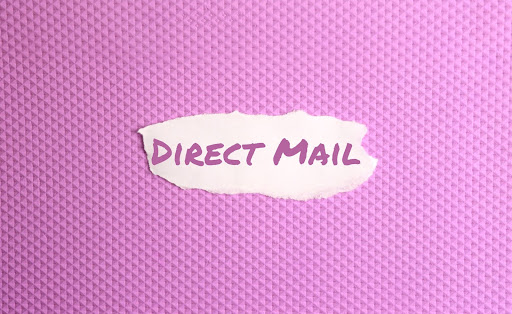 Amazon is using:
Shorter sentences
Smaller paragraphs
Product status
Additional features like Ask Alexa
A link to Your Orders is embedded for convenience
Postcard direct mail word count
In the restaurant category, the Postcard word count grew by 98%. The example below from the food chain Domino's is the best reference. Notice how Who's Mailing What has summarised the difference in the two pictures. The 2020 postcard by Domino's contains more information about the food items.
Amazon's order out for delivery mail from 2021

2 INTERACTION IS MORE PREVALENT.
We studied Zomato's interaction mails to engage customers from two different years. The first mail received is from the year 2017, and the other mail is from 2021. Notice the difference between the interaction style Zomato has begun. From using simple infographic pages which do not attempt to engage any conversation with its customers. There is a significant difference in the interaction style in 2021.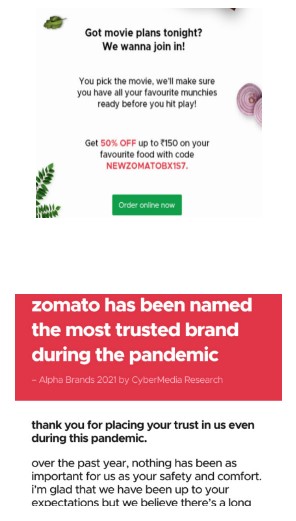 The interaction style in 2021 is more conversational and informative. They even mentioned their accolades and thanked the customers for their contribution which is highly engaging.
According to Michelle Fuchs, Account Manager, IWCO Direct
"COVID-19 has forced people to spend time at home, so this is the perfect opportunity to mail an attractive, interactive Direct Mail piece that will grab consumers' attention and engage them long enough to make a purchase. A strong loyalty program that includes Direct Mail will keep that person as a valued customer for life."
3 DIRECT MAIL IS STILL THRIVING.
Companies of all ages use direct mail. Brands as old as Dunkin' Donuts to as new as Merit Beauty ensure to include direct mail in their marketing strategies. Digital leaders embrace direct mail for the following reasons:
Direct mail offers selectivity
Direct mail provides extensive coverage
It speeds up the marketing appeal
Direct mail offers flexibility on the budget
Direct mail allows personalization
It provides complete information in few words
What do marketing experts say?
Industry leaders are concerned that direct mail isn't dead. It offers a great way to reach an audience and grab their attention. The Data & Marketing Association reported that the direct mail customer response rate increased by 43% in 2018, and there was significant growth in the response rate from 2017-2018.
4 QR CODE
In the flood of information, consumers are becoming highly interested in knowing what product or service they are using. By placing a QR code in direct mail, brands can provide extra information, tag video description, etc. In addition, placing a QR code helps brands compute the campaign's efficiency by tracking date, time, and use of scan.
According to USPS, contrary to when they were first introduced, QR codes enjoy less stringent restrictions. Today, marketers are enjoying a 2% postage cost break for campaigns that include a QR code. Source
Moreover, when included in direct mail, QR code benefits consumers because they are being used in signage, restaurants, malls, for high-tech and contactless information.
5 PERSONALIZATION IS THE KEY TO DIRECT MAIL CAMPAIGN SUCCESS.
Personalization in direct mail is one of the most appropriate tips to achieve a successful campaign in 2021. Amanda Bronowski of the Heeter says:
"The need for marketers to achieve that human connection with their customers has never been more relevant than now. Studies have shown that most of the population feels they have lost that kind of relationship during the pandemic. Thus, personalization is going to increase twofold in 2021."
Blog Takeaway
Predicting trends is impossible. Moreover, the pandemic's course will reveal how marketers respond to the reassertion of direct mail in 2021. Savvy marketers understand that there is a need to keep up with the latest trends and avail growth opportunities.