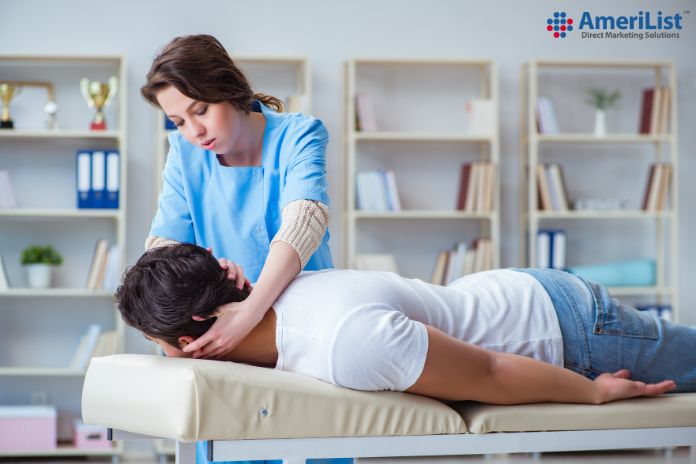 In the competitive business world, having access to the right contacts and information is crucial for success. This is especially true in the healthcare industry, where targeting the right audience can make or break a business.
Businesses in medical equipment, pharmaceutical, and commercial real estate industries, targeting chiropractors, can be a lucrative opportunity. Chiropractors Mailing Lists can empower your business to succeed by providing you with the contact information of these healthcare professionals.
In this blog post, we will explore how Chiropractors Mailing Lists empower businesses to succeed and why they should be a valuable asset in any marketing strategy.
So, if you're looking for ways to take your business to new heights, keep reading to discover the power of Chiropractors email database.
The Power of Data in Business
In an era where data is king, businesses constantly seek ways to leverage information for strategic advantage. Accurate and current data forms the backbone of successful marketing campaigns, enabling businesses to make informed decisions and tailor their messages to a specific audience.
According to recent statistics, targeted email marketing campaigns are significantly more effective than generic ones. For instance, personalized emails can lead to a 6x higher transaction rate and a 41% increase in click-through rates.
However, it's crucial to highlight that not all data is created equal. With the correct data, businesses can connect with chiropractors and other related industries, ensuring their marketing messages reach the right audience.
For the most accurate and reliable data, consider partnering with trusted companies such as Amerilist that provide high-quality data solutions.
Why Choose Amerilist for Your Data Needs?
Our Chiropractors Mailing List is a testament to our commitment to precision. Our data is a goldmine of valuable insights derived from many public and proprietary feeds, online and offline, including surveys, self-reported individuals, and previous memberships/purchase history.
When you use our data, you are guaranteed accuracy and unmatched deliverability. Our compilation team processes the entire database against the National Change of Address (NCOA) file monthly, ensuring you reach your target audience at their current locations.
To elevate the standards of accuracy, our list is CASS-certified. This certification ensures that the data adheres to the highest accuracy standards, giving you the confidence that your marketing messages are reaching the proper recipients.
Your success begins with accurate and reliable data—choose Amerilist for a strategic advantage in today's competitive landscape.
Chiropractors Mailing Lists: A Game-Changer
Chiropractors Mailing Lists are a game-changer for businesses looking to succeed in the healthcare industry. These specialized lists offer several key advantages that empower businesses to achieve their marketing goals.
1. Segmentation Options
The ability to segment data based on demographics and psychographics sets chiropractors mailing lists apart.
This means businesses can target their marketing campaigns towards specific chiropractic clinics or individual chiropractors based on Geography, Executive Names, SIC Code, or Phone.
This level of precision allows businesses to tailor their messaging and offers to the right audience, increasing the likelihood of engagement and conversion.
2. Accuracy and Currency of Data
Outdated or inaccurate data can be a hindrance to any marketing campaign. We prides ourselves on providing accurate, quality data and up-to-date information.
This ensures that businesses are not wasting time and resources reaching out to inactive or incorrect contacts, ultimately maximizing the efficiency of their marketing endeavors.
3. Access to a Network of Active Chiropractic Offices
The true strength of the chiropractors mailing list lies in its extensive network of active chiropractic offices. This opens up opportunities for businesses to collaborate, partner, or sell their products and services directly to these establishments.
The network provides a direct channel to professionals who can benefit from various products and services.
Industries That Can Benefit From Chiropractors Database
In today's competitive healthcare industry, businesses need every advantage to stand out and succeed. This is especially true for medical equipment providers, pharmaceutical companies, and commercial real estate agencies.
So, why do these industries need Chiropractors Mailing Lists?
1. Medical Equipment
Chiropractors require specialized equipment for treatments. Having the right contacts helps medical equipment providers connect with potential clients and boost sales. Mailing lists facilitate direct outreach to chiropractors in need of products and services.
2. Pharmaceutical Companies
Pharmaceutical companies can optimize their outreach efforts by leveraging the chiropractors email list. Chiropractors often prescribe medication to their patients, and having direct access to their network can be invaluable for pharmaceutical companies.
By establishing partnerships and collaborations with chiropractors, pharmaceutical companies can ensure that a trusted and respected healthcare professional recommends and utilizes their medications.
3. Commercial Real Estate Agencies
Expanding into new markets often involves strategic partnerships. Commercial real estate agencies can utilize the chiropractors mailing list to identify prime locations for establishing chiropractic clinics or wellness centers, facilitating growth and expansion.
4. Back and Neck Brace Manufacturers
Direct communication is vital for manufacturers of back and neck braces. The chiropractors email database allows these companies to reach out to chiropractors who may recommend or sell their products, creating a direct line to potential customers.
5. And More
The versatility of the chiropractors email database extends beyond these industries. Any business benefiting from a targeted approach to chiropractic professionals can gain from this invaluable resource.
Overcoming Business Challenges in Targeted Industries with Chiropractors Mailing Lists
Targeted industries such as medical equipment providers, pharmaceutical companies, or commercial real estate agencies often face unique challenges in the competitive healthcare industry.
However, with the help of Chiropractors Mailing Lists, businesses in these industries can overcome these challenges and thrive.
Challenge: Limited Market Reach
Solution: The segmentation options provided by chiropractors mailing lists allow businesses to expand their market reach strategically. By tailoring messages to specific demographics and psychographics, companies can overcome the hurdle of limited visibility.
Challenge: Identifying Key Decision-Makers
Solution: Accessing a network of active chiropractic offices means businesses can directly connect with key decision-makers. This eliminates the struggle of identifying and reaching out to the right individuals within the industry.
Challenge: Personalized Communication
Solution: Personalization is the key to successful communication. The chiropractors email list enables businesses to craft personalized messages that resonate with chiropractic professionals, fostering more substantial and impactful connections.
Conclusion
In conclusion, the chiropractors mailing list is a powerful tool for businesses looking to enhance their marketing strategies. The precision, accuracy, and extensive network it offers empower industries to succeed in reaching chiropractic professionals and fostering valuable connections. If you're interested in leveraging Chiropractors Mailing Lists to empower your business, don't hesitate to reach out to Amerilist for their chiropractors email list. Take the first step towards achieving business success today.