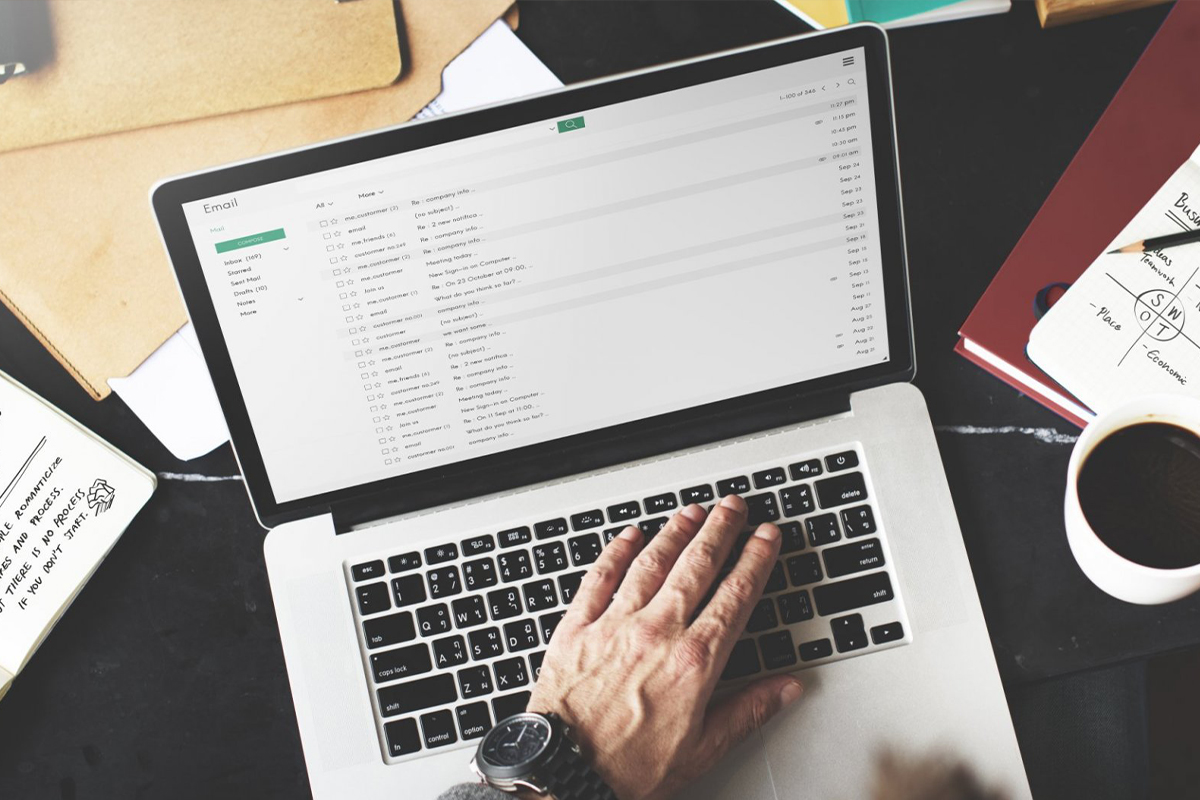 3 Predictions What the Future of Emailing Will Look Like?
Have you ever wondered what your business would have looked like if Ray Tomlinson hadn't introduced the Email? Businesses wouldn't have prospered and expanded as quickly as they do today. Well! Although Email might not seem like a very distant past, it has rapidly changed the technological environment around us.
But due to the innovation of other digital interaction channels like social media platforms which include Twitter, Youtube, Snapchat, and Whatsapp, Email has suffered a tragedy. It is beginning to be less popular. Most people find managing their inbox a waste of their limited time and dealing with a queue of obligations.
The email questions never change.
What kind of emails are more prone to be overlooked?
How to ensure your emails are opened?
Which messages do consumers respond to first?
Every business has to deal with these challenges, but email ends up looking like something that is doomed to extinction for many.
Is email really dead?
Not yet? The good news is email isn't dead , and it's not going anywhere anytime soon. Many businesses recognize the vital role of emails in verifying accounts, building communication, and connecting distantly spread prospective clients inside and outside the company.
According to an Email Statistics Report, 2021-2025 by Radicati,
The total number of business and consumer emails sent and received per day will exceed 319 billion in 2021, and is forecasted to grow to over 376 billion by year-end 2025.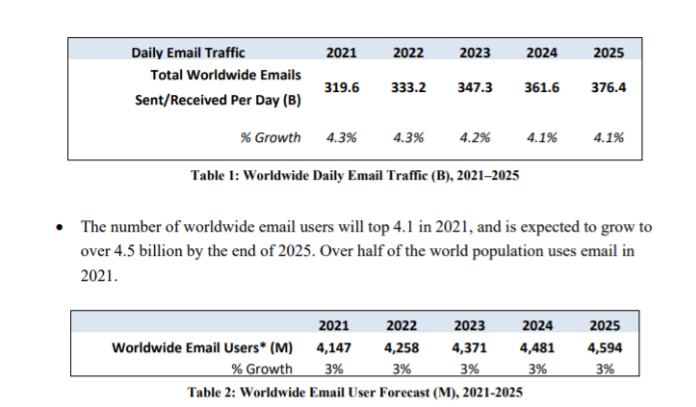 Image source- Radicati.com
What is the future of Email?
In the near future, our email will be more secure, interactive, and visual. These inclusions will empower us to manage our priorities better and build connections that are most important to us.
Email Will Be More Secure
Anti-spam technology will become highly effective and password-driven. However, security vendors will need to bring solutions to combat the latest scams continually as well. This will include a great deal of retrospection and investigation into unbreachable firewalls that entail improved machine learning techniques for email users.
Malware remains a point of concern for associations. The proliferation of malware can bring down an association's internal operations, adequately halting a large portion of the work within an association. Viruses, worms, and other self-propagating malware are particularly risky because of their imitating attributes.
Malware assaults usually start with embedded links sent through email. And sometimes, an email itself may not contain any malware. In the coming years, emails will have multiple firewalls to protect the impregnation of harmful viruses.
Read Related Post: Top Tips for Businesses for Not Landing in Spam Folder
Email Will Be More Manageable
A report by the British Psychological Society and Future Work Centre states that even though emails have made our communication quicker and easier, their usage can be a source of major frustration and anxiety. Research suggests that it's our need to arrange every message that causes stress.
But today and in the future, not just will email expand, but it will also bring about solutions that will eliminate the stress of arranging everything. Email recipients will not need to check emails first in the morning with their tilted heads while they drive and sort their emails.
Google will auto-arrange your priority emails and let you manage your Gmail inbox effectively. All you will need to do is schedule your calendar, and Gmail will collaborate your emails.
Email Will Be More Visual
As humans, we naturally excel at absorbing meaningful visual interfaces. And you would agree that emails have already come a long way since they were introduced. From looking like a block of text in 1999, inboxes of 2021 look far more conversational.
In the future, all important emails will contain vivid images and might even incorporate 3d visuals and augmented reality to create more meaningful and high-impact messages. Attachments will have attractive and compelling graphics. Links will direct customers to high-end graphic websites.
Finally, there will be ways to make and arrange email apps that will visually customize to an individual user. According to Inc.com, "Consumers will be able to touch, sort, compress, expand things in ways that make them more effective and pick up and reorganize emails to organize them according to priority."
From composing to replying to emails , businesses will have email marketing strategies in their tool, which will bring them accelerated ROIs in months.
Conclusion
Emails in the future will vastly allow users to have more control over the messages they want to receive. They will be able to arrange their inbox environment in a more personalized way.
Another way of having control as a user will depend on a more interactive and user-friendly interface. People will be able to get into a focus mode and see only those contacts they wish for. This will allow them to manage better how they focus and get through their tasks.
Amerilist Direct Marketing Solution offers B2B email lists to ensure your success. If you would like to know more about Amerilist, Inc., and find out how to help you find the best marketing list for your next direct marketing campaign, please call us toll-free at 1.800.457.2899 or email us at sales@amerilist.com.